Artist : Luba Mason
Album : Krazy Love
Released Date : January 27, 2009
Label : Sunnyside Records
Look at the coziness at the cover of the CD. Can you feel it? That picture tells all about what you're going to have in the CD. This is a CD to have when you wanna have a good time relaxing at home or when you want to escape from all your heavy schedules and daily routines.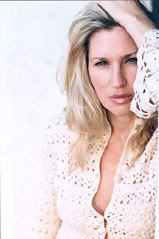 Luba Mason has released her brand new album called Krazy Love, an album produced by Renato Neto and released by Sunnyside Records. This is an album where you'll get a pleasuring journey in the tradition of the intimate cozy jazz lounge, and feel Luba's love for Brazilian music with jazz, plus a little touch of folk and pop and a delightful taste of Broadway stage play. All those styles blended together as one, producing a beautiful album with 10 songs.
Lovely and seductive vocal of this Slovakian heritage living in New York is definately nice to hear. Her silky smooth vocal flows freely throughout the songs, It feels like Luba is exploring her soul, finding what she loves the most, presenting them in ellegant and sophisticated way, and definately more than happy letting us to join her journey. As theatrical and Broadway veteran, all her experiences on stage enriches her ability to carry the songs in perfection. Not only that, she is also an excellent songwriter. She co-wrote 8 songs for the album.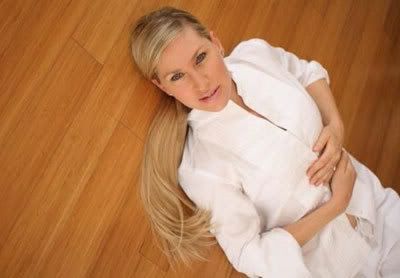 The title track, "Krazy Love" is a perfect example of how lovely Brazilian music can blend smoothly in sensual jazz lounge.  The smooth sound of cuíca (Brazilian friction drum that used often in samba style) in  this song is just beautiful. Such a perfect opening for the album. She brilliantly captured The feelings of betrayal portrayed through the lyrics and melody of "From Me To You".  "Lovely" shows the theatrical side of Luba with nice folk touch with great Accordion play by Frank Marocco embedded inside this fun-ride fantasy song.  "A Summer Night" is a beautiful dreamy and poetic song presented in soft and tender rhythm. This song will comfort you in peaceful smile. "E Com Esse Que Eu Vou", a famous Pedro Caetano song carries the flirtatious vibe of romance between Luba and her husband, Ruben Blades in a lovely duet. "Olhos No Olhos" is another song she sang in Portuguese written by Chic Buarque. This is a song that shows her deepest emotion. You'll get carried away by this lovely song. "This House" tells all about Luba's childhood memories. "Gorgeous Fool" shows her naughty and playful side. This song is really sexy, it always makes me smile everytime I hear the song. "Reunion" shows the happiness of having a reunion in the spirit of Brazilian rhythm, and the last song, "Xmas In July" is a sweet reflective song of her special memories.
Solid play came from the band and guests supporting the album. Besides husband Ruben Blades, Frank Marocco and Renato Neto, There are Yellowjackets'  Jimmy Haslip, a world fmous bassist. Cassio Duarte on percussion, Marco Costa on drums and Sandro Albert on guitar, Andy Martin on trombone, Hubert Laws' wonderful flute on "This House". With all these great talents behind Luba, it's no wonder that the album is really well made and surely will be loved by all cozy jazz lounge with Brazillian taste lovers.
Luba treats each and every song in the album very well with her unique and lovely voice.  Luba Mason's Krazy Love is definately the album you got to have when you need a companion to chill out. Enjoy your own cozy moment in jazz lounge, Brazilian style.
1. Krazy Love
2. From Me To You
3. Lovely
4. A Summer Night
5. E com esse que eu vou
6. Olhos nos Olhos
7. This House
8. Gorgeous Fool
9. Reunion
10. Xmas in july
BONUS FREE DOWNLOAD TRACK 2 FROM THE ALBUM



Right click the button and choose "save link as"
Buy Luba Mason's Krazy Love on Amazon.com
Please visit Luba Mason's official site at: http://www.lubamason.com/ and myspace at http://www.myspace.com/lubamason

Pictures taken from flickr.com
Reviewed by : Riandy Kurniawan